Netflix downfall?
1 mei 2022

Niveau: Havo/vwo bovenbouw
Bron: CNBC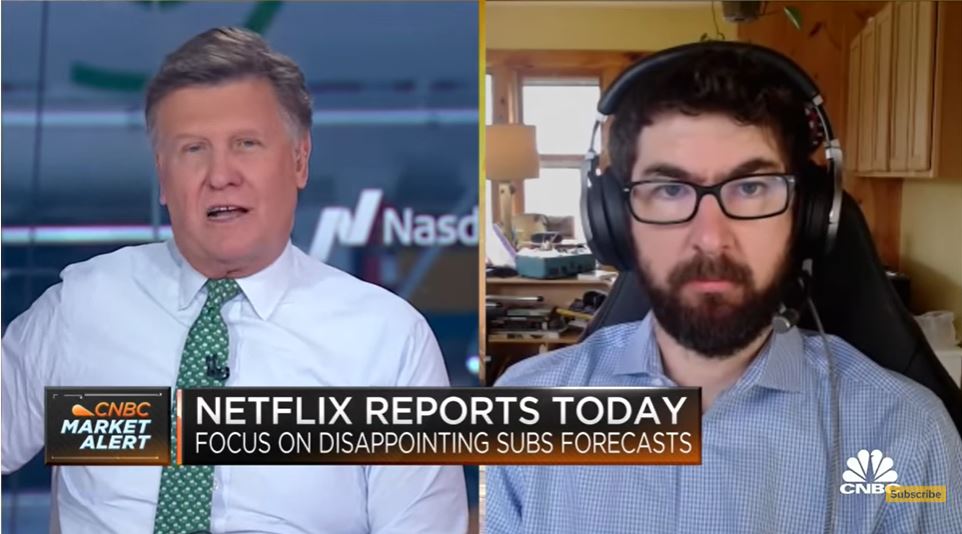 Video bekijken
As the world struggles to fight the consequences of Russia's invasion in Ukraine, Netflix, the leader in entertainment for over two decades, sees an unprecedented decline in subscription rates.  What is the reason for this?  Let's find out more.
Watch the video of 3:58 minutes (source: CNBC)
Questions about the video:
What has happened to Netflix?
According to business analyst Jeffrey Andrew Uerkwitz, what will happen next and why?
What has changed in Netflix stocks recently, according to Jeffrey Andrew Uerkwitx?
What do surveys suggest Netflix should do?
Do you want to learn more about Netflix soaring subscriptions and what is it planning to do about it? Read this article from the BBC where the reasons for the subscription decline and Netflix's reaction to it is discussed.
According to the text, what is the main reason for Netflix's fall in amount of subscribers?
In which way has Netflix benefitted from password sharing?
Which two steps is Netflix considering implementing?
Discussion questions:
"Boss Reed Hastings previously described the practice as "something you have to learn to live with", adding that much of it is "legitimate" between family members. The firm also said account sharing had probably fuelled its growth by getting more people using Netflix."
Do you agree with Netflix boss, Reed Hastings?
How do you think Netflix can prevent curbing password sharing from backfiring?
What do you think about Netflix nowadays?
Wil je meer weten over onze Engelse methode Stepping Stones? 
Naar website